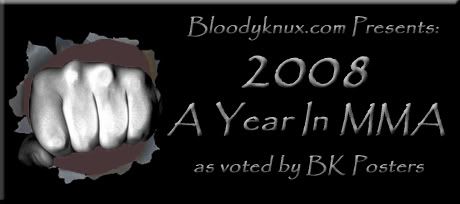 It's been a momentous year for MMA. Very little seems as it was in January 2008. Some long-respected totems were not just shaken but torn out the ground and trampled over. Some legends losing in spectacular fashion. It's disconcerting and exciting at the same time. Our esteemed members have furrowed their brow and tapped their cheeks pondering and here are the conclusions of that high-brow deliberation. Let's take a look at some of the highlights of 2008.
Fighter of the Year: Rashad Evans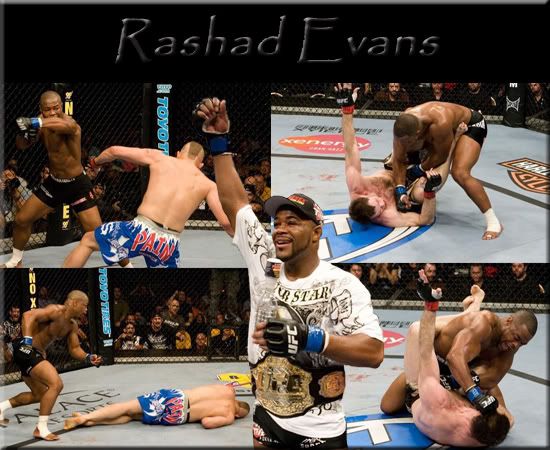 Evans started the year as 'that talented wrestler who grinds out decision wins' reminding you of Dan Henderson but without the sledgehammer. His 2007 wins over Salmon, Bisping and draw with Ortiz (Tito was deducted a point for fence holding) didn't set him apart from other ex-TUF winners.
Evans only fought twice in 2008 but finally it was his hands that did the talking. in September 2008 at UFC 88, Evans produced one of the KOs of the Year against former LHW Champion Chuck Liddell. After a tentative first round, Evans handed back Liddell's patented over-hand right with interest for a one-punch KO. Liddell woke up completely unaware his title shot had derailed while Evans danced his way to a shot at Forrest Griffin, the new UFC LHW Champion.
Their battle at UFC 92 in December 2008 went as expected, at least at first. Griffin stayed on the outside, using his superior jab and low kicks to win the first two rounds without much damage done. In the third round, Evans sought to impose himself, taking Griffin down and with surprising ease, sitting up in Griffin's guard to pound out a win.
So the belt is handed round again. With contenders like Lyoto Machida, Quinton Jackson and Shogun Rua being lined up, only greatness will suffice to keep that belt into 2010.

Honourable mention : Thiago Alves
Fight of the Year: Eddie Alvarez dec. Joachim Hansen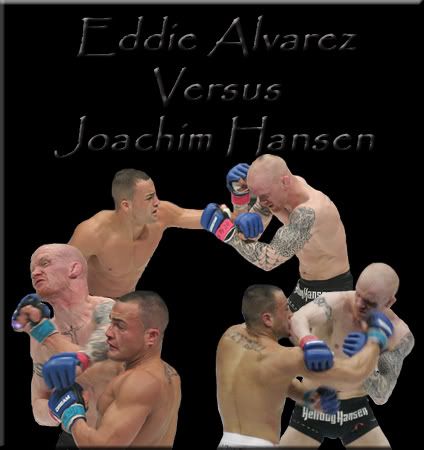 A fairly easy call here. At DREAMS 3, the Quarter - Final battle in the Lightweight Grand Prix between Alvarez and Hansen had everything. Alvarez went into the bout with the vastly experienced Hansen as the underdog. But within the first minute, Alvarez moved consistently and imposed his more robust stand-up on the Hansen's convenient European style. The fight went toe-to-toe for the first 10 minute round with Alvarez using his wrestling and stand-up to put Hansen down. Alvarez was unable to really hurt the tough Norwegian who looked to tied up Alvarez on the mat.
In the second round, Alvarez was clearly ahead but tiring. Hansen finally got him to the mat and worked on his improving submission game. Alvarez defended well, fought and rolled out of danger. Hansen almost had an armbar sunk but for his leg position, the sweat conditions and Alvarez's adrenaline. Alvarez got to his feet and both men slugged it out till the bell.
Honourable mentions : Miguel Torres v Yoshiro Maeda, Quinton Jackson v Forrest Griffin.
Newcomer/Breakthrough of the Year : Shared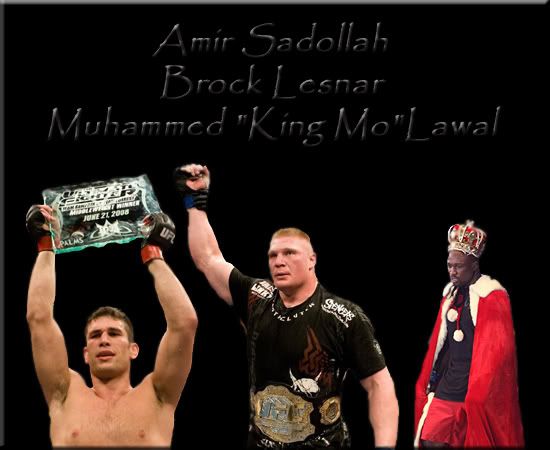 Three names stand out here. Amazingly Amir Sadollah made his professional debut only after entering the The Ultimate Fighter house on TUF 7. He fought his way through to the final knocking out the very mortal Matt Brown and twice armbarring UFC 92 veteran C.B Dollaway to earn his porfessional contract. His delayed MMA career really begins in February 2008 when he takes on unbeaten Nick Catone at UFC Fight Night.
Brock Lesnar technically started his career in the summer of 2007 at the K1 HEROS event in LA. His entrance into the UFC with a record 1-0 plunged him into the big pond. Frank Mir showed Lesnar how much he had to learn despite being knocked down early by a clubbing right hand. Once on the mat, an experienced Lesnar was in the danger zone and soon tapped from a kneebar.
But the Lesnar momentum truly started with his demolition of Heath Herring, a fighter who has seen better days. That clear decision win granted Lesnar a match-up with the returning Randy Couture for the UFC Championship. Fight fans are divided on this early match-up but the result put Lesnar firmly into the top ten with a second round TKO of Couture and the UFC Heavyweight belt in only his fourth fight.
Lastly and most extravagantly, Muhammed Lawal, known as King Mo started his career with the Sengoku promotion and stormed to a 3-0 over experienced pros with a combined 80-22 record (we're including the recent Naito fight). Surprisingly all his wins so far are based on a fast-paced and powerful stand-up performance rather than his wrestling base. His impressive skills matched with his showmanship and ring entrances point to a big 2009 in Japan.
KO of the Year : Rashad Evans KOs Chuck Liddell at UFC 88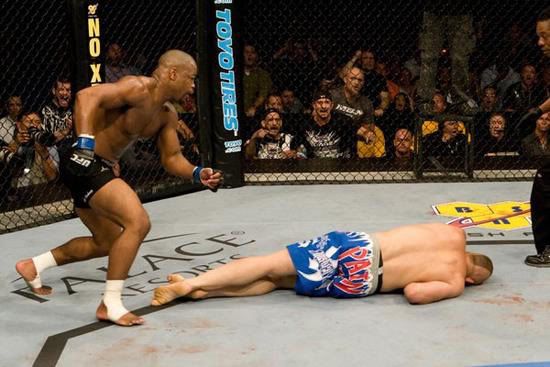 Described above during Evans' award of Fighter of the Year, Evans gets the award for the brutality, cleanness and importance of the knock-out. Liddell who took the shot on the button was left on queer street for minutes after. Evans also showed a previously unknown side of his improving game. This win propelled him to his successful title shot at UFC 92.
Honourable mention: Melvin Manhoef KOs Mark Hunt at K1 Dynamite 2008
No one before had knocked Mark Hunt into semi - unconsciousness. Not a Crocop LHK or Le Banner's sledgehammers.
Submission of the Year: Shinya Aoki's mounted gogoplata of Katsuhiko Nagata
This was a tough one. Aoki's legendary reputation as the Tobikan Judan of Japanese MMA was only enhanced in 2008. While Alvarez and Hansen spectacularly slugged it out in their Quarter- Final, Aoki got mount on Olympic wrestling silver medallist and pulled out his right leg over and used his instep to sunk a mounted gogoplata, the first in competitive MMA and a testament to Aoki's skills and flexibility.
Honourable Mention : Dustin 'McLovin' Hazelett's spectacular armbar submission win over Josh Burkman at The Ultimate Finale 7.
Event of the Year : UFC 84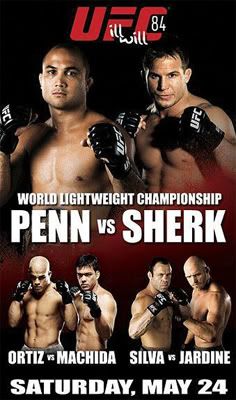 For once, Japan didn't provide the event of the year. UFC 84 had an excellent mix of world-class submission and brutal KOs served up by some of the best fighters on the UFC roster.
In the main event, Sherk, a dominant wrestler unwisely chose to use his improving stand-up against Penn who completely out-boxed him and finished him with a flying knee at the end of the third round. Five Light-Heavyweight bouts preceding the main event were the highlights of the 10 fight card. Wanderlei Silva returned to form with one of the KOs of the year after only 36 seconds. Goran Rejlic won a tough fight with Wilson Gouveia in the second round. Lyoto Machida emphasised his growing talent, beating Tito Ortiz fairly easily to a decision win. His opponent at next UFC show in January 2009, Thiago Silva also did want he does best, brutally knocking out Antoino Mendes in the first round but not after weathering a hurricane from Mendes. And recently-cut Sokoudjou left Smokin' Nakamura unable to find his stool at the end of the first.
Three other highlights stood out on the undercard. Yoshiyuka Yoshida's quick choke out of Jon Koppenhaver warmed most hearts while Rousimar Palhares's masterly armbar of veteran Ivan Salaverry roused our admiration. Shane Carwin started his role as a UFC wrecking machine knocking out Christian Wellisch after only 44 seconds.
For the price of the PPV, it's pleasing to see the UFC putting cards with depth. With the arrival of Affliction as competition, we'll hopefully see plenty more cards like UFC 84 in 2009.
Honourable Mention : Affliction Banned
Fedor Emelianenko proved his talent against Tim Sylvia and good performances by Arlovski, Josh Barnett and Antonio Rogerio Nogueira.

Disappointment of the Year : EliteXC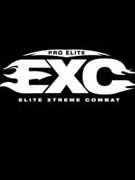 Like the venerable banks suddenly remembering the requirement of actual revenue to support loans, EliteXC collapsed in October 2008. After only 2 years in frantic business, the Gary Shaw started promotion simply ran out of cash despite being a huge draw on CBS and landing some of the brighter names of MMA. The financial mismanagement was staggering. Elite had debts of $55m in only 2 years of operating. The take-overs of smaller, regional shows such as KOTC and Cage Rage were pointless investments. The stories of how decisions were made indicates a fundamental lack of wise business heads at the top coupled a dangerous infusion of nepotism. Such internal contradictions of philosophy and personality reminds me of Marxism!
The Seth Petruzelli - Kimbo Slice debacle was merely the coup-de-grace. The suspicion that EliteXC asked Petruzelli to fight in a particular manner essentially to give Kimbo more of a chance stained MMA. The sight of Gary Shaw screaming at cash-cow Kimbo Slice to get up after knocked out reminded one of Don King's satanic heart. But EliteXC was already dead by then and with it, an exciting but deeply flawed attempt to broaden MMA's appeal.
Honourable Mention : Antonio Rodrigo Nogueira - (I don't want to talk about it!)

Written while devouring Takoyaki by Dan Adams
Thanks to Jim 'Chivo' Schnepp and Joe 'Dragomort' Tuey and all our fantastic posters on bloodyknux.com

DISCUSS THIS ARTICLE HERE