One on One with
Tara LaRosa

Tara talks about her upcoming match for Bodog Fight Dec 2nd.

She?s been called the most recognizable female martial artist in the world, and she?s undefeated for over 3 years. Tara LaRosa is coming off an exciting submission victory over tough Amanda Buckner (8-4-1) at the Bodog Fight premiere August 22nd in Costa Rica. Now she?s headed to Canada with Bodog?s Team USA to face Fedor Emelianenko?s Red Devil team December 2nd.
BK -Your fighting career has taken you from New Jersey to Tokyo and now to Costa Rica. How was your trip?
Tara LaRosa- Absolutely awesome. It was like a dream. I love this sport; I get to see the entire world. I get to meet awesome people. Best job in the world.
BK- Previously you were fighting with the mixed Fighting championship promotion in Atlantic City. How has the transition to Bodog Fight been?
TL- Oh, very easy, Bodog is very easy to work for. Everything is taken care of. Knowing exactly where you need to be and when, our medical needs, everything. They?re a great organization to work for.
BK- Do you feel the exposure on cable and the internet has raised you profile as a fighter?
TL- Oh Absolutely. It?s really weird, when people come up to me, having seen me on the commercials that air on the Outdoor channel, and have looked me up on the internet, on Bodog Fight, people I don?t even know. It?s crazy. People from back in Jersey, people in North Carolina. People I haven?t seen in years are like ?Oh my God, I saw you, I saw you!?
BK- I actually saw the commercial during the Ultimate Fighter Finale the other night.
TL- I was blown away, I was so shocked to see it aired at that particular time.
BK- It was great exposure for Bodog for sure. Who are you training with for your next match?
TL- Right now, I?m training in Yakima Washington under Rich Guerin. It?s a great team, a whole lot of wrestlers. There are a few guys getting ready to go pro. Another guy who?s fighting pro at 145, who?s really good. There?s a bunch a guys at 125 and 135, I have lots of people who are my weight. Everybody is super talented. From wrestling to Jiu-Jitsu to Muay Thai kickboxing. We have a boxing coach, it?s absolutely awesome. I?m having a grand ole time out in Yakima, Washington.
BK- In our previous interview you said you wanted a rematch with Jennifer Howe, but besides her, whom else would you like to face?
TL- You know, I?ve never named people I want to fight. I don?t throw names out there; I always felt it was kind of cocky. I never really wanted to call people out, but there?s one particular name that?s stuck in my head, because she called me out after her last fight in New Jersey. Apparently she got on the mike and had some things to say, I wasn?t there, so I didn?t see it, but I was told about it by a few people, so I guess Laura D?Auguste (Team Tiger Schulmann 7-0-1). I think I?d like to meet her in the ring. I think that would be an interesting match-up, an exciting fight for sure.
BK- That would be a match we?d love to see. Your next match is against someone we know almost nothing about, Red Devil, Julia Berezikova (22 y.o. St. Petersberg). Do you know anything about her at all?
TL- Just the Red Devil name is scary enough. You know if she trains with Fedor she?s gotta be for real. I understand she?s well rounded, and has pretty good ground skills. I?ve seen no tape on this girl at all. All I know is she?s suppose to have really good boxing, and has been training with the Red Devil team for 5 years, which tells me she?s going to have a little bit more than boxing. That just tells me that she?ll be well rounded. I?m ready for it all. Honestly wherever the fight goes I think I?m going to be ready for it. It should be a war like Amanda and me.
BK- That fight was amazing. (
Bodog Fight Episode 3- to watch click here!
)
I was really surprised when you finally landed the submission. She?s such a tough character.
TL- No kidding. Try being in there with her. I couldn?t believe it I was shocked.
BK- Does the Red Devil team have anyone under 155 for her(Julia) to train with? They show her rolling around with Fedor, but that can?t be the same as someone who?s going at you 100%?
TL- I don?t know, but every gym has some littler guys. For sure, I?m sure they have some.
BK- How?s your health holding up? I know you have a history of going into the ring with a cold, or feeling under the weather. Are you going to be 100%?
TL- I hope so, I feel a bit light right now.
BK- After you beat Roxanne Modaffferi, the one person who has not one, but two victories over Jennifer Howe, I was hoping you?d get a rematch. Any hope of that happening?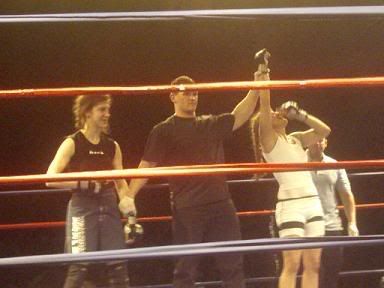 Tara wins a victory in Atlantic City over Roxanne Modaffferi
TL- No idea. I?d heard she(Jennifer Howe) was planning on retiring, so I have no idea if she ever will, It would be a different fight now for sure.
BK- Well best of luck, and I hope to see you back in Atlantic City fighting live for us.
TL- I?d love it, a free trip home!
Be sure to check out BoDogFights: USA vs. Russia on Dec 2nd in Vancouver Canada and live on Pay per view. Other exciting matches will include MFC champ Eddie Alvarez versus UFC Vet Aaron Riley, and the debut of Roger Gracie against Pride and UFC veteran Ron Waterman.
Don?t miss out BODOG FIGHT: Pick-em challenge for a chance to win a BODOG PRIZE PACK and a customized Pick-em Champ signature!
Discuss this interview and BODOG FIGHT's Dec 2nd event here!

Check out the Bodog Fight USA vs Russia pick-em contest for a BODOG FIGHT PRIZE PACK! Click here!
A big thanks to Tara for giving us the time and Eric Nicholl for the Bodog pics.
- Jim "DC Books" Kirkland