Bloodyknux.Com Exclusive Interview: Paul " The Head Hunter" Buentello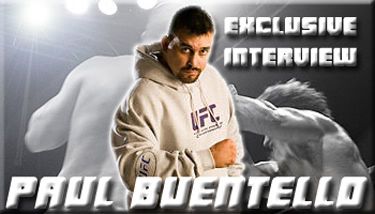 We here at BloodyKnux.Com continually strive to bring our readers new and unique interviews with stars from all corners of the combat sports world. Recently our very own Tyler Horton was able to catch up with UFC and Strikeforce veteran hard-hitter Paul "The Head Hunter" Buentello. Read on as Paul talks career retrospective, future plans and much more....
--

BK: Paul thank you for joining us here at BloodyKnux.Com for this interview. What made you choose to become an MMA fighter in the first place?

PB: I was always a fan of martial arts and boxing. While watching my first UFC I knew competing in the sport would be something I would love to do but had no idea how to get into it. Soon after there was a local event called the USWF that was similar to the UFC but on a much smaller scale, I immediately signed up and thats how it all began for me.

BK: When were you given the nickname "The Headhunter"? Was it given to you after a specific fight or during a training session?

PB: When I started competing most of the other guys that were competing in the area were mainly wrestlers with submission skills. Evan Tanner and Heath Herring had a lot of success in my local area but they were more wrestling based. I was one of the only guys knocking out my opponents rather than taking things to the ground and I quickly became known to the fans as the guy who would stand and bang...the "Headhunter".

BK: Where are you currently training and what aspects of your game are you working on most right now?

PB: I am training at American Kickboxing Academy and also with Little Dave Velasquez at Extreme Training Center. I try to balance my training out between ground work , kickboxing and stand up. Most people think I concentrate more on my ground when in fact I'm still learning and getting better on my feet.

BK: Could you make 205 lbs right now if the money was right to fight at that weight class?

PB: There is always a possibility...depending on the opponent and demand of the fans...

BK: What mistakes does you feel you?ve made along the road in respect to your MMA career both in and out of the ring and what have you learned from those mistakes? Also, is there any advice you could give to other aspiring MMA fighters to help them avoid making any similar mistakes?

PB: I've made a ton of mistakes! It's all trial and error along the way and the way I see it... mistakes are not really mistakes if you have taken notice of what went wrong and do what you can to prevent a repeat! It's all about learning from them! A mistake that sticks out in my mind was being over aggressive in the UFC title fight against Andre. Since that fight I like to think I have become more patient but just as effective as far as providing exciting fights.

BK: Out of your losses, whom do you want a rematch with the most?

PB: Of course, I'd like to fight Andre again. That stands out to me right now!

BK: What are your thoughts on the team concept that IFL has introduced into MMA? Do you have interest in fighting for them at some point?

PB: Being part of AKA I know the importance of having a great team. I'd like to see the IFL expose the team aspect more than they have so far. Maybe show some behind the scenes footage on how the whole team helps each fighter prepare. I think the fans, if given an opportunity, would be more interested in the team concept of the IFL. As far as fighting for them...anything is possible!

BK: With regards to the UFC portion of your career, do you feel that you were thrown into the fire so to speak with Andrei Arlovski too soon or did the game plan for that bout just not work out?

PB: No, not at all. I'm a fighter and I fight who I'm told. The game plan was to press the action and of course knock him out. Andre caught me and was the better man that night.

BK: How is your relationship with the UFC ? Did you leave on good terms with Dana and Zuffa after your last contracted fight against Gilbert Aldana back in February of last year?

PB: Most fans think I was cut by the UFC but that's not the case. My manager took an alternate opportunity - what he felt was better for me at the time.

As you mentioned Gilbert -I'd like to let Gilbert's family know that they are in my prayers and I am so sorry for their loss. I will never forget a moment when we fought, I had him in a bad position and told him to quit, He laughed at me and said "never". The guy had so much heart and it?s a tragedy what happened.

BK: What did you think of Heath Herring?s performance against Jake O Brien at UFN 8? As a predominantly striking oriented fighter, what did you think of the classic take down artist/striker match up?

PB: I was excited to see him in the UFC ! I wish he had been able to perform better than he did.

BK: How would you feel about a fight with Heath Herring in the UFC? Seems like it could be action packed.

PB: Heath and I are both from the same hometown but have never fought. I am sure it would be exciting fight and a great draw of Texas fans if we competed in a UFC in Texas!

BK: Strikeforce seems to have been a very good fit for you at this stage of your career. Do you think you could headline a show for them at some point in your home state of Texas or are they planning to maintain their position as a strong California organization?

PB: I?m Not sure whether Strikeforce will venture out to Texas or not. I would love to see Strikeforce go to Texas and headline a show! I know there is big money to be made in Texas and fans in Texas are super supportive and are always up for a good fight!

BK: Regarding your Strikeforce bouts, were you shocked at how quickly you were able to dispose of Tank Abbot?

PB: Yeah, a little - I figured I would wear him out and finish him in the second round. I've never seen Tank dropped like that, and never so early on! No one has dropped Tank when he was fresh like that... It?s an added high light to my career..

BK: Although Warpath is a credible HW fighter, did you have any trouble adjusting your game plan from your originally scheduled opponent Alistair Overeem? Seems like it might have been a bit of a letdown to not fight a PRIDE quality fighter such as Alistair.

PB: Warpath came to fight and has a lot of heart. I didn't change anything as far as training. There were a few names mentioned as opponents but for whatever reason they didn't pan out. Taking nothing away from Ruben. I give him much respect for jumping in at the last minute.

BK: Many rumors have floated around the Internet about a match up between you and Kimbo Slice. Would you take this bout and under what conditions?

PB: I'd fight him in a sanctioned show. My manager talked to his people and it looks like it won't happen due to the fact it has to be sanction here in the states. I wont risk losing my license here in the states, but I will say...I would have fought by his rules!

BK: One of our forum members, a gentleman named Walter Weatherman , wants to know what happens if he didn't fear the consequences?

PB: Tell Walter that he better...!

BK: What do you want to have remembered as your impact on the MMA world when you finally leave the fight game?

PB: I want the fans to see me as a fan who put everything on the line to compete in the sport I love. As guy who was told I would never make it in this sport but dared to prove the world different and did!..

BK: Paul, thank you very much for taking the time to talk with us today here at Bloodyknux. Is there any sponsors that you would like to thank at this time?

PB: I?d like to that the folks at Knoxx Gear (www.knoxxgear.com) as well as Sacrifice gear (www.sacrificegear.com) for sponsoring me. Also check out my newly redesigned site at www.paulbuentello.com .
Tyler Horton
A Special thanks goes out to our members Joe, Mattias, Jason, Walter and Michael for their question contributions as well as staff members Chris Freiderich and Jean Page for their assistance in this interview.
Discuss the interview here :
http://www.bloodyknux.com/forum/showthread.php?t=25500