ADMIN

Join Date: Feb 2005
Posts: 254
vCash: 11925
Rep Power:
50
BLOODYKNUX.COM EXCLUSIVE INTERVIEW: 1 ON 1 WITH UFC STAR JOE LAUZON
---
BloodyKnux.Com 1 on 1 Exclusive Interview with UFC and TUF star
Joe "J-Lau" Lauzon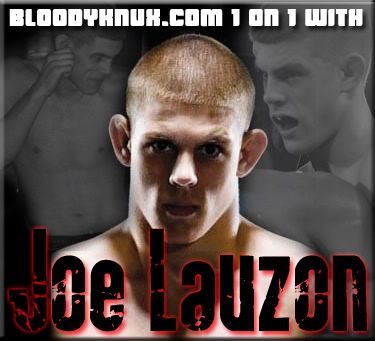 One of the driving forces in the popularity boom of the UFC in the past few years has been the success of their original SPIKE TV production "The Ultimate Fighter". BloodyKnux.Com's Tyler Horton was recently able to speak with one of the stars of the upcoming Season 5 of TUF, Joe Lauzon.
Joe has the unique perspective of having defeated one of Season 5's coaches, Jens Pulver, inside the Octagon and discusses that eye-opening fight as well as thoughts on being a part of The Ultimate Fighter phenomenon and much, much more....
---

BloodyKnux.Com: Who has been your biggest influence to start martial arts and more specificaly, mixed martial arts?

Joe Lauzon: I don't think I had a huge influence to start martial arts... but Joe Pomfret is definitely the person I tried to be like when it came to the martial arts. Joe is my trainer, and he was the first person I ever did any type of training with. I remember when I first started, I had a much different outlook on things. As time went out, I got much better training habits, and took on the whole "Train hard win easy" mentality.

BK: Describe for us a daily training day for you. How do you manage to balance training with your work as a Network Administrator?

J-Lau: Typical day when training for Jens was up around 5:30am, leave for work around 6am and be into work around 7am. Work until 3pm, and then drive to training. I would do conditioning and boxing drills from 4-6, then have 60 to 90 minutes to rest and get some dinner and then we would do a second session from 7 or 7:30 until 9 or 9:30 working on wrestling, grappling, doing MMA rounds, etc. Then home, eat again, and right to bed. We did this Monday through Thursday, and then we would spar boxing rounds on Saturday mornings and do some light conditioning. We did this routine for around 8 or 9 weeks.

BK: Tell us a little about your MMA credentials. What organizations have you fought for and what titles, if any, have you won in the past?

J-Lau: My record is something like 13-3, I think. I have a couple local titles: Mass Destruction 155 title, a few Combat Zone titles, World Fighting League Grand Prix Champ at 160 (that was the 8-tournament I won back in April 2006).

BK: You have said that your brother is pretty much a better fighter than you or will become a much better fighter. Out of everybody else you train with, who are we to look out for in the future?

J-Lau: I still have him for right now, but he will be better in the near future if he keeps up with training and doesn't slack. I have a bunch of good guys I train with. Most of our guys have only had fights on the local level, but guys like Joe Cushman, Jack Wilmarth, Greg Pomfred, Matt Perry, Bobby McMasters, Josh Grispi, Dan Ferrer, Rich Moskowitz, John Howard, Chris and Jay Palmquist, Chris Grandmaison, Jim Gonzalez, Matt Trudell and Josh Scott (Slicky).

BK: Aside from the Brothers Lauzon, another well know set of brothers in MMA are of course the Brothers Guida, Clayton and Jason. Speaking for yourself, do you find it more difficult to have someone so close to you being a fighter in the game? People know of the stress family members sometimes go through and the sacrifices a family makes with a professional fighter in the family, but for you, being on both sides of the fence, how does it effect you or does it make you stronger because you have a brother in the game?

J-Lau: Having a bother makes you stronger, without a doubt. Look at all of the other brothers in MMA: Nogueiras, Emelianenkos, Nick and Nate Diaz, Matt Hughes has a brother (Mark I think), Cole and Micah Miller, BJ Penn has brothers that train with him for fights, Nick and Matt Serra, the Gracies and the list goes on. You can have falling out with friends, but your family is always there. No matter how big of a problem Dan and I have, we are going to work through it and forget about it. So we both always have a great training partner for something we are both so passionate about. It's tough sometimes when he is fighting and the fight may not be going his way, but thats how it is. I can't help him when he is in there, and he can't help me when I am in there. We know this, so we try to push each other and help each other as much as possible in training. Our family is 100% behind us in whatever choices we make, and they love seeing us go out there and do something we enjoy.

BK: What were you thinking going into the Ivan Menjivar fight? Was it too short notice or did you have trouble making weight?

J-Lau: I took the fight with Ivan on somewhat short notice... I think like 10 days or something like that. I didn't have trouble cutting the weight so much as I wasn't experienced at cutting weight. It was the first time I had ever cut weight for anything. When I started fighting, I was walking around at like 151 or 152 and fighting at 155. As time went on, I put on weight, but was still around maybe 160 and making 155. It was an easy cut to 155 because I would just cut water the day of weigh-ins and it would just works its way out and I would be 155 without doing anything. For the fight with Ivan, I woke up at 154, and had to cut water from there. Cutting 10 pounds in a day the first time you can have ever cut is not something I would recommend to anyone. It sucked. My legs felt horrible, and I had no spring to my legs whatsoever. I also had found out the day before we drove to Canada that I had a tear in my meniscus, which wasn't exactly comfortable. That being said, neither had anything to do with me losing the fight.

This was my first fight with elbows, which we hadn't really trained a whole lot of because there are no elbows allowed in the fights we have in Mass. So I was really inexperienced with elbows, and we got into a clinch and I was looking for double unders and not even thinking about elbows, and Ivan planted one across my jaw. Dropped me and knocked me silly. (Editor's note: I was at ringside for this fight - that shot sounded like a shotgun blast. Full credit to Joe for fighting on after that!)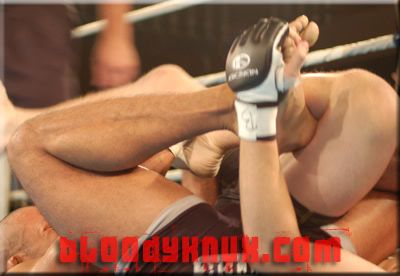 Lauzon works to escape a submission.

I stumbled back and he came charging, and I woke up along the way and it was all down hill from there. He finished the fight with a submission, but it was just a formality. It was the elbow and my inexperience that really cost me the fight. It was a great learning experience though, and I have no problem losing to one of the best 145'ers around.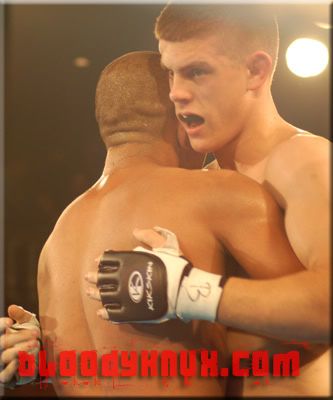 Lauzon learns a good lesson after his fight with Menjivar.

BK: Did the "home fight tapes" on your website work for or against you in getting into the UFC?

J-Lau: Good question. I'm sure the UFC saw them, but I don't think it really helped or hurt me. If they loved them that much, you would see them all over the place. Dan and I train super hard and try to kill each other in practice. For us, putting on gloves in the backyard is no different than training in the gym. Whats the difference? A mat versus grass? So the clips show us going hard, but thats how we train too. Neither of us want to lose, so it gets a little heated. At the end though, its always fine and we look forward to the next time we train. Anyone who has a brother, particularly that trains with them knows exactly what I mean.

BK: (laughs) I know what you mean! Let's take it from the backyard to the Big Show now. Many people who are fans of the UFC have no idea how one fighter moves from fighting in small shows to getting "the Call" and moving up to the UFC... For you how did that process take place and from the initial call to getting in the cage how long was the process for you?

J-Lau: I think for me, the biggest help was Drew Fickett. Drew had fought out here a few times, and we became pretty good friends with him. When my brother finished high school, he wanted to train and fight, so he moved out to Arizona and stayed with Drew and helped him get ready for his fight with Kurt Pellegrino in the UFC. While Drew was training, he would be in contact with Joe Silva and was basically hounding him everytime he got him on the phone about taking a look at me.

Eventually, it worked, because Joe called us about the fight with Jens. Not the ideal first fight in the UFC by any stretch, so who knows what Joe had in mind. Maybe he was thinking "This will show Drew... his boy wants a chance, he can get knocked out by Jens". Maybe not. Either way, Drew played a huge part in getting me in. I think we got the call like 10 weeks out, which was long before it was announced, and we started training right away.

BK: What was your initial reaction to getting the call from Joe Silva/Dana White?

J-Lau: Honestly? I thought it was a joke. We were talking like a month before on "How would you fight this guy?" One of the guys we talked about was Jens, and I said I would run away. Very bad style matchup for me. Southpaw boxer with dynamite in his left hand and has great takedown defense. Once I knew it was the real deal, I didn't know what I wanted to do. You always hear about the UFC calling me and if fighters turn it down, its a long time before they get another call. So I didn't want to turn it down... but after a few days I convinced myself on why it was a good fight. Nothing to lose, great exposure, great opportunity, etc.

BK: For sure, and way to make the best of it by the way! So what were your initial thoughts going into that fight?

J-Lau: "Step to the left". I wanted no part of that left hand, which I think was his only real way to win. My only way (or so I thought) was on the ground. So we worked for 8 weeks or whatever it was on staying away from his left and setting up the takedown. If we did that, it would be smooth sailing. Easier said than done though. I was super confident though. I knew I had the tools to win, and I wasn't going to be timid... I was there to win.

BK: What fights in particular did you watch of Lil' Evil to prepare yourself to fight him?

J-Lau: I watched some of his more recent fights from Japan. I watched the fight with BJ about 100 times. Paying attention to what Jens liked to do, combinations he liked to throw, how he defended against shots, how he stood up...

BK: Aside from being such a huge underdog in the oddsmakers eyes going into the fight vs. Pulver, Did being labeled as a "feeder fish" for the UFC's returning "star" by some media outlets add to the jitters while training for the fight or did it increase your motivation?

J-Lau: I knew I was being labeled as a feeder, but I knew how much bigger of a bubble it would burst if I cam out on top. If I had lost, well I was expected to lose. If I won, it was the greatest thing since ice cream cake. I was in a win-win situation, so it just pushed me to work all that harder.

BK:It's one thing to have been a big underdog against Pulver, but knocking him out must've been sweet. How did it feel for you to have had a special segment during an episode of "Inside the UFC"?

J-Lau: Being on Inside the UFC was cool. I remember sitting at the weigh-ins before the fight with Jens, and seeing all of these promos of Jens and they were filming him training and things like that. I remember saying to manager Chris, "Cameras are coming to Boston next week" and they just kind of laughed. Was pretty funny when he called me the next week and were like "You're right... cameras are coming this week".

BK: Nice. Just so you know, your KO win over Jens Pulver was voted as the "Upset of the Year" for 2006 here at BloodyKnux.Com. What do you have to say to all the underdog fighters out there?

J-Lau: Any fighter can be beaten on any given day. The harder you train, the luckier you get.

BK: Makes sense! So is there a mini rivalry between the Lauzon's and the Miletich camp now or what?

J-Lau: I'd really like to fight Spencer [Fisher]. Spencer was acting all arrogant and cocky before I fought Jens, and then before Dan fought him, he was trying to intimidate him and getting in his face. He beat Dan, but he needs to remember that he was training for a fight for a while (2 months or so maybe?) and Dan went from zero training over like 3 months to busting ass for a week and being in the UFC. I would like to see that fight with Dan having the cardio to go longer. He got in the ring after his fight with Dan, and said he wanted me next. It was a fight I wanted, but I had to make a choice between fighting Spencer right away or going on TUF5. I made the smart move and I will still get Spencer down the line, so its all good.

BK: Since your win in your debut against Jens Pulver, why haven't we seen you back in the UFC?

J-Lau: I eat like a fat kid, and I was sick of training. I trained to hard for the fight with Jens, that I didn't want to be doing any more cardio for a while. On top of that, Thanksgiving and Christmas were coming, and I didn't want to be trying to train during the holiays. Then, the show came along [The Ultimate Fighter 5] and we were waiting to see how that panned out. If I didn't get on the show, I would have fought again by now.

BK: How has sponsorships come along since your UFC debut? Has your being cast on TUF affected things any?

J-Lau: We didn't have any fights coming up, so we really weren't talking with sponsors. Now that the show is on, sponsors are all asking "Well how did Joe do?" and we obviously can't say anything. As the show starts airing, we will start talking with more sponsors.

BK: So TUF5's all about the "little guys", the lightweights. Always our favorites here at BloodyKnux.Com. But, if the UFC were to have a featherweight division, would you drop back down to your natural weight or are you comfortable fighting one division up?

J-Lau: I'm done with 145. It was too much of a cut for me then, and I'm a lot bigger now. I lost explosiveness and cardio at featherweight, so I am happy where I am. I will have to deal with some larger guys, but I will at least be at my best, so it will be a better fight.

BK: It's known that you are a man who enjoys his poker. What would be more intimidating for you, the Main event at the WSOP or fighting for a belt in the UFC?

J-Lau: Fighting is easy. I do that all the time. Poker is easy too... I just go all in when I get Jack-5 because only an idiot would do that. Sometimes it works and the reaction of bad beating someone is priceless. I would LOVE to do something like that at the main event of the WSOP.

BK: What would you say is the single biggest thing you can say you took home with you from TUF5 ? eg. Experiencing something you've seen for a few years on Spike tv? Training with such greats as Jens Pulver and BJ Penn? Going home and not being able to tell those closest to you how you did in the show due to the contracts to get onto the show?

J-Lau: The training experience and the exposure was second to none. And being on TV doesn't hurt.

BK: Okay, level with us - Who's winning on June 23rd? BJ Penn or Jens Pulver?

J-Lau: On Paper, BJ has all the tools to win. But a fight is a fight... anyone can win any given fight. I am proof of that.

BK: What are your biggest inspirations towards your career and future in MMA?

J-Lau: Doing "something cool" on my fights. Everyone wants to win, but I never want to be known as the guy that has boring fights. I constantly try to end the fight, and if I see something interesting or off the wall, I am going to try it.

BK: Now that's a straight answer, I like it. Listen we know you're fresh out of TUF so you probably have stuff to do, we want to thank you for your precious time and wish you luck in your next fights. Anyone you want to thank?

J-Lau: Sprawl has a huge help as a sponsor. They have been working with me since I was doing the beginner divisions in NAGA. NAGA is another sponsor, along with MMA.tv, Bullshido, and Deathwish Records. Thanks to my trainers Joe Pomfret and Steve Maze. Thanks to all of the guy that I train with at RSD, Bishops Boxing, South Shore Sportfighting, Team Santos, Team Burrill Brazilian Jiu-Jitsu, and everyone else.
Tyler Horton
Edited by:
Jean Pagé
NOTE- Special thanks goes out to our forum member Michael as well as our staff members Chris Freiderich and Jean Pagé for their contributions to the questions for this interview. Without our member participation, we could not bring such quality interviews for you to enjoy here at BloodyKnux.Com
Discuss this interview HERE
__________________
Questions? Comments? Opinions? Share them with us &
Register
!
---
Last edited by Johnny Toetags : 04-05-2007 at

12:32 AM

.