Bloodyknux exclusive-
Rory talks about the IFL, Matt Serra and Matt Hughes, and the Chicago match with the Red Bears
Rory Markham made a statement in his first welterweight match with the IFL, knocking out very tough Mike Pyle in the first round. Going 5 out of 6 in the IFL he's a force to be reckoned with in the IFL Welter-weight division. Going undefeated in the first tournament, Rory and the Silverbacks won the finals. This year the team and their star welterweight have struggled. The Silver backs are battling to keep their finals dreams alive, and Rory?s dealing with a reoccurring injury that?s forcing him to sit out this weekend when the Silverbacks face the Chicago Red Bears on their home turf at the Sears Centre in Chicago Illinois. Also at the show, the Razorbacks face the Condors and Maurice Smith and Marco Ruas return the ring in the nights super fight.
We had a chance to talk with Rory before he had to withdraw from the event, and after with an update on how he?s doing and his thought on his replacement.
____________
Bloodyknux -You?re 11/2 you were on a huge streak after coming to the IFL, and that suddenly ended when you met Chris Wilson. What happened?
Rory Markham- Ouch great first question of the interview. I just put too much pressure on him.
Chris is a smart fighter. I was just telling my buddy not to long ago about my fight with Pat Healy, and he asked what I was thinking about when I got dropped. I thought of my fight with Chris when I got dropped. When I got dropped by Chris; I was so embarrassed, I had to redeem myself immediately. Instead of being a smart intelligent fighter I didn?t wait, I didn?t bide my time, I didn?t recover, I chased him down on wobbly legs. Chris being the good fighter that he is, he sat back and picked me apart. So I really didn?t learn that bout the fight until I got dropped by Pat in my last fight. You always hear, ?You learn something from a loss.? What I really learned here, yeah I shouldn?t have pressured him too much too soon, but in all reality, what I really learned from my loss to Wilson was that you got ot take your time when you get dropped. In MMA you have a lot more options to bide your time. We?re not boxers, we?re not kick-boxers. We get to grapple, we get to hang on. There a lot more room for us to recover in a MMA fight. Now that I learned that , it?s another little thing I can add to my repertoire.

BK- Sound like something GSP could have used in his match with Serra. You?re often referred to as Little Hughes, what did you think of that match, and what Serra said on the radio following.
RM- Do they really? That?s a hell of a compliment. The Serra St Pierre fight was excellent for the sport. It really proves that there are multiple ways to lose in MMA. There?s not just one decisive factor in MMA. What the Serra GSP fight did for the sport was, it reiterated that fact that this isn?t boxing. You?re not going to see somebody with a 40-0 record, not one dominant champion. That?s the beauty of our sport it brings that X-Factor into the game. When Serra knocked out George, it proved to the world that George isn?t unstoppable. Matt?s loss to George is another thing that shows it. There?s not going to be one be all end all of fighting. We as mixed martial artists are not going to have the same records as boxers. There?s a lot more ways to lost, and a lot more ways to win. It?s really great for the sports what happened in my eyes. Very exciting.
BK- Serra had some harsh words for Hughes today on the radio calling arrogant and a jerk what do you think?
RM- Matt?s a wolf, if he smells weakness he pounces. We were doing a drill before Robbie fought Trigg, and he was busting my chops. He said, ?Hey man, don?t worry,? that he?d say something to get people riled up, but ?If they give me anything back, that?s all the more reason to keep going, keep picking.? Which goes to show, that if he smells blood, he?ll go after it. Honestly, he?s not a cocky person, but he exudes confidence. It?s how he walks, how he carries himself is a confident stature. You never hear him complaining or down. I know this guy. I?ve watched him spar 12 rounds with back spasms. You know what I mean? He?s a very confident individual, and that can be mistaken for cockiness. At the same time though, I think Serra would like to make the fight more interesting. He knows how well rounded Matt is, and he?s trying to make the fight a little more interesting with the words, than the outcome is going to be when they do fight.
BK- I take you have a prediction on that one?
RM- I?m pretty sure Matt?s going to run away with that one. That belt?s as good as Matt?s. It?ll be hard work, and anything can happen; Serra proved that against George.

BK- You started your career against one of my favorite fighters with one of the worst records for his talent in MMA, Jason Guida from Hell house. You?re going against another Hell House guy in Mark Miller. Is there any animosity there?
RM- Yeah, they?re all Gilbert (grappling) guys. I know Mark, and he isn?t solely a Gilbert guy. He?s got Dino Costas for Jiu-Jitsu, and Arlovski?s boxing coach, Mike Garcia. He?s gone a little further than Gilbert, and he?s going to be a little more tricky., but I?m excited for all fights. I have the utmost confidence in my abilities, when I?m in shape like I was against Healy.

BK- When I first saw you in Atlantic City, I had never heard of you, but you came out, utterly dominant in your fight, and after that in the press conference, you were extremely well spoken. The guys I was sitting with all agreed, that you had a future, and would be a great spokesman for the sport. Do you see yourself filling a role like that?
RM- Absolutely, and that?s not being cocky. Quite honestly that?s my dream. Right now, when I read, and take vocabulary classes all that?s in preparation for these interviews. I hate to scramble for words and be at a loss for words especially when there?s a microphone in my face. That?s the biggest compliment you can pay me. I train mentally in preparation for interviews and to be a spokesman, because I think I can send the proper message.

BK- You?ve made your name in the IFL, but if one of the other shows came calling would you be tempted?
RM- Absolutely, Of course, I don?t do this for free or charity. We all need to see more money eventually, but the IFL what I love about them is that they are looking to grow. They listen to the fans, and they aren?t afraid to change. They?ve got network television deals, and after the first IFL battleground show to some harsh criticism, maybe rightfully so and Kurt Otto went out apologized for it, made immediate adjustments and produced a better show. The point being they listen to the fans. That will get them very far. The My Network TV deal puts us in every household in America on Monday nights.

BK- I?ve been watching the Battleground show on MyNetwork, and they keep moving closer to the current events, will we soon be seeing live IFL events?
RM- I believe they are. This weekend at the Mohegan Sun will only be delayed a few hours. You can watch it the same day on Fox Sports net.

BK- That?s a hell of a day. I?ll be watching them and Bodog. So tell me about your part Death in the life of Bobby Z.
RM- I have a little bitty role with Paul Walker, John Herzfeld directed it, and he?s a very good friend of Pat?s(Miletich). He stayed with us for a week, just to do research, hoping to a MMA movie not too far out. He called Pat up and asked him to film some fight scenes, and I was just lucky enough to be the one that Pat asked to help him throw some fight scenes together and send this off to the producers to show them an idea of what he?s going down there for. The producers called and said those two guys you have doing the fight scenes, why don?t you bring them down and see if they can help us out. So I got in there and they gave us the script and the next day I was reading lines and actually getting them. It was really cool, a great experience. I?ve never had so much consistent fun over a three or four week period. It was consistently fun everyday. I had a blast. I was at home on the set.

BK- Don?t abandon us for Hollywood.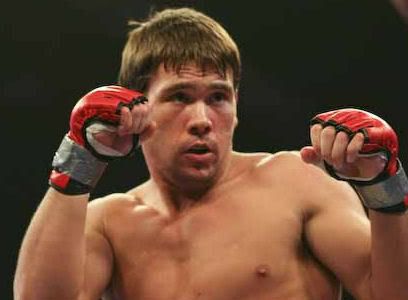 RM- Pat was busting my chops saying ?We gotta win you a world title before you get all banged up, and get you out to acting.? No, I?m definitely sticking around until I get a belt and a whole lot more.

BK- You guys are off to a bit of a lumpy start this season. The Silverbacks are 1 and 1 and there are 3 teams that are 2 -0.
RM- Yeah, our next event we need a 4-1 or a 5-0, it has to be.
BK- I first met you at the IFL premiere show in Atlantic City, and I was talking to your teammate Ben Rothwell. I?d seen his fight at MFC with Dan Christison. Now that Dan?s with the IFL, I?m looking forward to their rematch.
RM- It?ll be a different fight, Ben?s come a long way.

BK- How much does that really help having a team you work with constantly?
RM- I didn?t really know how important it was, but now as I compete in more events with my team it really does help. The guys I?m are like brothers. There?s not one guy I don?t know everything about on my team. To have Rob Lawler although he?s not a Silverback, he?s a teammate and a brother jump up on the ring ropes in my last fight and say, ?Alright buddy now it?s about heart, step across, two right hands and this and that.? You listen, you can hear their voices a lot better. not only because that what you?re trained to do, but emotionally that?s who you?re connected to. I think that?s a huge part. It?s really the deciding factor for out team, it?s what makes us the best.
BK- Thanks for talking to us
RM- No problem, thanks for all the support you guys at Bloodyknux give us.

After the interview I heard a rumor that Rory was out of the match in Chicago, so instead of relying on second hand word of mouth, I gave him a call for an update.
BK- So the rumors are true? Can you fill us in on your injury and what?s going to happen this Saturday?
RM- Yeah, they?re true. I have a hole in my retina, and it?s going to be with me for my entire career. When the doctor tells me to take it easy, I have to adhere to his orders. We?ve got Josh Neer stepping up. The guy?s a stud. You can?t deny Neer?s abilities, he?s very well versed. He?s a professional with a lot of fights at a young age. We?re real confident that he?s going to go in there and perform.
BK- So when do we get to see you back in action?
RM- August hopefully in the finals. Should be nice and healed and ready to go. You know I performed so well in my last fight, because I had a little time off. I just hope to keep performing like that and peaking at the right times. Try to use this time as a blessing, get a little better on the ground get my wrestling a little better.
BK- We?ll be looking forward to it. Thanks for the update.
RM- No problem any time.
A big thanks to Rory, Jerry Milani and Rachel.
-- Jim "DC Books" Kirkland
Title photo by Chris Friedrich

Watch IFL Battleground every Monday night on My Network tv.
Watch for exclusive IFL Chicago coverage after the event.
Discuss this interview and IFL events here!