Bloodyknux.Com Exclusive Interview: 1 on 1 with UFC Star Tyson Griffin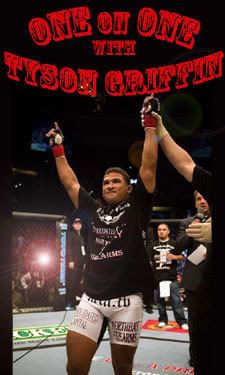 We here at Bloodyknux.Com always strive to bring our readers interviews with the stars and up and comers of the MMA world. Recently our own Tyler Horton was fortunate enough to catch up with Rising UFC Lightweight star Tyson Griffin. Read on as Tyson talks about shaking off his recent defeat to Frank Edgar, preparing to fight overseas for the first time and much more.....
BK:. What first got you started in MMA? When did you decide you wanted to become a professional fighter?

TG: I basically got into the sport because I needed a place to work out. I was in Santa Rosa, CA because I moved there to wrestle for the Junior College. After I decided to drop school all together I kept hearing about Dave Terrell's gym where a lot of the wrestlers would go to work out and train jiu-jitsu. I finally was too fat and out of shape and it was time for me to do something. So I started going to Dave's to just get some weight off and have fun really. Dave told me one day he thought I would be good at MMA and that I should come train with him at Caesar's gym. My first MMA session was with the Diaz brothers, Jake Shields, Gilbert Melendez, Gil Castillo and of course Dave. I ended up getting cut at the end of the work out and while I waited at the emergency room to get stitches I decided that this was something that I'd want to do and it sure would beat the long construction days I was working.
BK:. What is a typical training day like for you?
TG: In the morning I do plyometrics or run a couple miles and do some mit work or grappling. In the evening I'll go back to the gym and we'll warm up and start sparring mma for at least 5 rounds. I like to keep things simple and just work hard
BK:. One thing I have heard is that you are a man who loves his food and who also loves to cook. Does this make it hard to keep on a diet training wise or easier for you?

TG: You heard right my friend, I should be on those before and after ads for weight loss pills or something. Although I don't like letting myself get too big after fights my love of food kinda takes over sometimes. Especially since my lady just graduated culinary school and can cook with the best of them. The fact that I cook a lot does help me control what I put in my body when im dieting so it goes both ways. Man, that question made me hungry !
BK: You have trained with Dave Terrell and co out at the Nor Cal Fighting Alliance. Any up and comers from there you could tell us about that might be joining you in the UFC in the near future?
TG: I did start there, but I recently relocated to Las Vegas where I now train at Xtreme Couture with guys like Grey Maynard, Jay Hieron, Mike Pyle, Alex Schoenauer, Joey Varner. The list goes on, including Randy himself of course. Check it out for yourself at Xtremecouture.tv. To answer your question though, there is plenty of talent still at NCFA that you may see in the UFC in the next year or so.
BK: Your career has been moving along at a pretty advanced level. Did you ever feel in over your head so to speak in taking on guys like Urijah Faber and Duane Ludwig within your first seven fights?
TG: No, not at all actually. I love being the underdog or the guy that's supposed to lose. It was like that when I wrestled in high school and JC. There's no pressure at all except for what I put on myself of course. If I got beat by Urijah, big deal I lost my third fight to a good fighter. If I got ko'd by Duane, no biggy got beat by one of the best strikers in MMA. However, I live to challenge myself in the octagon and fight bigger and better competition each time. Proving people and critics wrong always feels good too

BK:. Speaking of Urijah Faber, He is being pushed it seems at the face of the WEC brand that Zuffa purchased recently and is going to air on the VERSUS network. Any interest at all in giving him a rematch, this time surely for a much larger paycheck and with bigger exposure than when you two first fought in Gladiators Challenge? Do you think Faber would be willing to step up to 155 to meet you?
TG:. Like I say to everyone else, I told Urijah the day I beat him he could come up and fight me at my weight since I dropped to his and beat him. I originally tried to get a catch weight of 150 for the first fight which he disagreed to and that was expected. He then played games around weigh-ins which I will leave out details and because there was no commission at the event there was nothing we as a camp could do but wait. The bottom line is I hope, dream and wish he would have the balls to step up and get whooped again, just so I wouldn't have to answer this question anymore. I think he knows better though. He always says stuff about money when my name comes up, but I think its just an excuse. Or he just wants to make sure the beating would be worth it this time.
BK:. The Lightweight division in the UFC was a division that was long dormant up until about two years ago. In the past two years however, the division has been one of the most exciting in the UFC with bouts such as yourself and Frankie Edgar, Roger Huerta / Leonard Garcia and Joe Lauzon/ Jens Pulver providing the fans with non stop action and suprises. With that in mind as well as the focus on the 155lb division in this season's version of The Ultimate Fighter, where do you feel the Lightweight division is in terms of general fan recognition today?

TG: I think its through the roof today. People understand now how technical and skilled us "little guys" can be. Not only that, most of the guys in the lightweight division have great cardio and can go and go and go. I've had people from the average joe to the hard core fans compliment what myself and the other lightweights bring to the table. Even the big weight lifting guys are finally fans and respect the fact that we could take it to them if we wanted. They don't like it, but now they respect it. Lightweights are the real deal
BK:. What are your thoughts on the PRIDE/UFC merger? One thing PRIDE was known for is its wealth of LW talent, which was featured quite regularly in their BUSHIDO series. Is there anyone from the PRIDE side of the LW division that you would aspire to matchup against such as a Takanori Gomi or Mach Sakurai now that all the talent is under the Zuffa banner?
TG: Anyone in the top twenty in the world really. Both those names sound good to me. But like you said, there are many others that would be an amazing challenge.
BK: Speaking of your fight against Frankie Edgar, a few brief questions about that.
How long did it take you to shake off dealing with your first professional defeat? Was there any dwelling on what if situations in the bout or was it a case of " Ok., I lost, it happens time to let it go and move on to training for my next bout and not making the same mistake again?"

TG:It was exactly what you said, no dwelling, you lose from time to time. it happens in every sport and I was just fortinute enough to have won my first 8 bouts.
BK:What if anything would you have done differently strategy wise against Edgar?

TG: I actually wouldn't have done anything different strategy wise. At the time I was dealing lots stuff like moving to vegas and dealing with the drama from switching teams I had some health issues affecting my training. I was overweight for my liking and had to lose too much water for weigh-ins. I didn't have a perfect training camp going into the fight but It wasn't an issue or the first time that I wasn't 110% ready to go. I didn't lack any confidence going in, I told myself, "I had done it before and could do it again" looking back I think those factors made a bigger part than anything that happened on fight night. Frankie came ready to bang and he deserved to win that night. He's a tough dude, period.
BK:What were your thoughts when you had Edgar in that full kneebar and he was not tapping? How close do you feel you were to destroying his knee?
TG: I was thinking about taking his leg home with me. I did feel his knee pop a couple times when I had his leg on my chest and couple more times when I put it under my armpit.
BK: When you got hit clearly below the belt/nut shotted and Mazzagatti told you to fight on, did that affect you in any way?
TG: No, getting hit in the nuts happens sometimes and unfortunately I didn't get the chance to recover, but it didn't break my spirit.
BK: Id like to ask you a couple of questions now about your upcoming bout against Clay Guida at UFC 72. This will be your first fight outside of the United States. Are you excited about fighting in front of the European Crowd in Belfast?

TG: Yeah I'm excited, It will be interesting to see the level of knowledge they hold for the sport. I know fighting in general is huge over there so I suspect they will be an excited crowd with lots of energy.
BK. Guida is a submission and wrestling specialist first and foremost. Do you plan on trying to keep the bout standing with him or will you go to the ground and try to finish him if necessary?
TG: I'll fight him anywhere. I've got great submissions and pretty good wrestling myself and submissions is one of the areas I should attack more but I like punching people in the face better So I guess only time will tell.
BK: Tyson, lastly id like to thank you for taking the time to answer our questions here at Bloodyknux.com. Is there anyone that you would like to thank personally or sponsor wise?
TG: First off, thank you, It was my pleasure. Thanks to all my fans for supporting me in my loss and hopefully we'll get back on track June 16th. I have to thank Kim and Randy Couture for making my dreams a reality. I cant thank them enough and to all the guys at my new home at Xtreme Couture (www.xtremecouture.tv) Thanks for treating me like family Thanks to my sponsors for being there from day one. Northbay Firearms (www.northbayfirearms.com), Ground and Pound Fightgear (www.groundandpoundfightgear.com), Fairtex (www.fairtex.com)
-Tyler Horton
Photo by Jim Kirkland
NOTE- Id like to thank our staff member John Walters and our forum members TT and Mattias for their question contributions to this interview. Without our member participation these interviews would not be possible.
Discuss this interview HERE