Bloodyknux presents-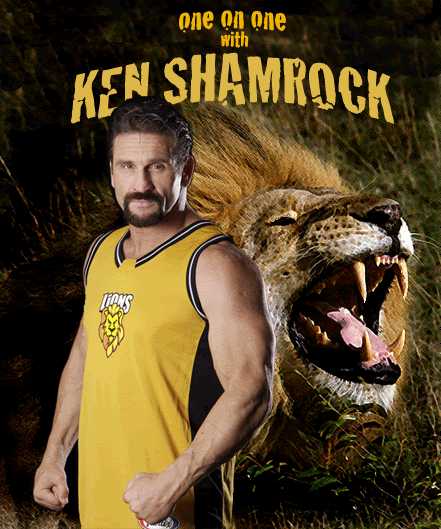 MMA Legend Ken Shamrock talks about his past and his future in the UFC, the IFL.
Ken Shamrock has been one of the most popular and controversial fighter in MMA literally from the beginning. Famous in Japan as King of Pancrase, and in professional wrestling as ?the World?s most Dangerous Man? he?s fought and defeated the best of the best, winning over fellow legends Masakatsu Funaki, Bas Rutten, Maurice Smith, Dan Severn, and Kimo Leopoldo. Ken was the first to not lose to the seemingly undefeatable Royce Gracie. Head of the Lion?s Den, and coach of the IFL?s Nevada Lion?s Ken Shamrock remains one of the most recognizable figures in mixed martial arts, and I had the pleasure of speaking to one of the legends of the sport about his past and his future in MMA.
**************
Bloodyknux- The Lions came close, but didn?t make it to the finals, but you?ve got two guys in the GrandPrix John Gunderson and Roy Nelson. John?s got one of those Cinderella stories tell me about him.
Ken Shamrock- He?s had a rough upbringing, and he?s one of those guys who has a lot of determination and heart that he was not going to go in the direction that his parents went in. He decided that he was going to do something with his life, and he had an opportunity and discovered he was a good fighter. Kind of the same thing that I did when I was young. Get involved in something that you?re good at. Now he?s taking care of his business, doing it the right way.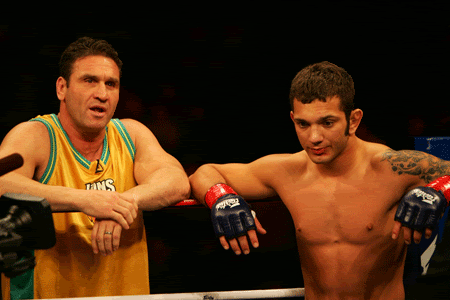 Coach Ken and Nevada Lion John Gunderson
BK- And how?d you come by Roy Nelson?
KS- We saw him in the tryouts, we had the open try-outs in Reno. We were the first ones to hold open try-outs to find new talent. Through that I saw him and I didn?t think too much of him. You look and you don?t think too much, you know, a good old country boy. As he started moving around on the ground, I started to pay more attention, pretty soon I had to say this kid has got some skills. I didn?t know how he would do when he actually got punched and stuff like that, I wasn?t quite sure on that, but I knew the guy had great skills. I didn?t know his heart yet. Once we got through that training, we started to look at him some more, and you know what this kid is the real deal. He?s going to be the heavyweight to beat. I said that at the beginning of the year, and people looked at me like I was crazy. I?m not looking crazy now, am I?

BK- No after 3 rounds with Rothwell, I was impressed. Ben?s a tough guy, and Roy?s the only one that came close.
KS- Came close? He beat him.
BK- I think it was real close, and I wish it had been 5 rounds.
KS- If any fight could have gone another round, that one should have.

BK- Who do you wish you could 'draft' to the lions?
KS- You know what, there is nobody I like better. I like our team. They are a great combination and good personalities. Obviously we?re going to try and improve our team, each position is there for every guy to earn back, but I liked what we had. These are the guys who came out, they tried out, we picked the team and that?s the team we stuck with all year long. We didn?t change our team, we stuck with it.

BK- Compare coaching a team like to IFL Lion's to running the Lion's Den to coaching on the Ultimate Fighter.
KS- I think with the IFL and the Lion?s Den it?s similar, but with the IFL team, we?re not looking to build guys. I had to have guys who already had skills. I needed to find out if they had the heart and determination and I was able to find that out through the tryouts, by interviewing them by putting them through drills and things of that nature. In the regular Lion?s Den they have to go through a rigorous day of initiation which whether you have skill or not, you can still pass, and then I can develop you as a fighter over a year or two. Coaching the TV team, was difficult, because I didn?t get a chance to pick my team. I didn?t get a chance to go through and see who I thought would work well with me. I had to take what they had, pick from whatever pool they had already picked. It was difficult for me, because we didn?t have much time to train for a fight, between each fight there was only five days, and you didn?t know who was going to fight. So you didn?t really get to prepare properly. So it was a little difficult for me, to one, have guys I didn?t know, two, to see whether these guys really wanted to be there to train and fight, and to have the proper time to train them in. That being said, it wasn?t like everybody else who was on the show didn?t have the same problems, because everybody on the show did. I just didn?t like being in that atmosphere.
BK- There was talk of a show based on the Lion?s Den, is that going to come about?
KS- No, that?s something we were talking about, but it kind of fell by the wayside as the UFC kind of jumped the gun on us.

BK- That?s a shame. Now that you?re coaching with the IFL, any chance we?ll see you in some super-fights there?
KS- Obviously, but I haven?t thought about it much now. My agent?s in negotiations with Dana and the UFC to figure out where I?m going to go next. I have one fight with them, and I need to make sure I take care of that, and then we?ll see where I go from there.

BK- Sounds like the UFC is planning that next fight will be with Ultimate Fighter winner, Michael Bisping. How?d that come about and what?s your game plan for him?
KS- We?ll, I haven?t been contacted about that, I heard the announcement, but I haven?t been contacted about that. I haven?t really had time to think about it. I just heard about it the other day, and I thought it was a bogus thing. No one?s called me. Rob Donohoo heard that Dana White had tried to call him, but he hasn?t heard from him either.

BK- So I guess you haven?t really had time to work out a gameplan.
KS- Yeah, what game plan dude?

BK- Royce Gracie has returned to the UFC recently, and a lot of people would probably tune in for a Royce/Ken III. Is that something that would interest you?
KS- Absolutely, I definitely would tune in for that one. It definitely would be a fight for the ages, but again, I don?t know where I?m going right now, let alone where I?m going in the future. I?m waiting to see what?s up next for Ken Shamrock. I have been training and working hard and preparing for a fight. So if one does come up, I?m ready.

BK- Jerry Milani mentioned you are coming out of surgery, feeling better than ever. What did you have done?
KS- I had to get my shoulder cleaned up a little bit. I came back at 100%. I feel great, I?ve been training and working out, I feel strong. If anybody?s seen me at the IFL you can tell, I?ve got my shape back and I?m fit training and ready to fight.

BK- How was it coaching against you brother Frank?
KS- (Laughs) We beat them, and I?m happy about that. If you lose it definitely sucks, I?d hate to be in his shoes, but you know what it could have been me. I?m enjoying it, and maybe next year things will be different. We?ll see what happens next year.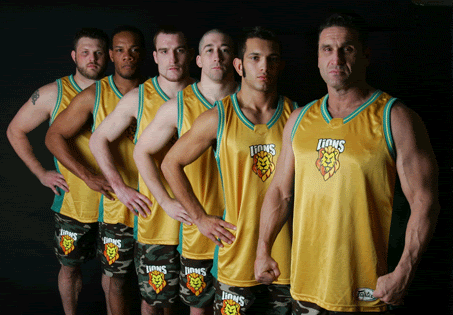 The Nevada Lions and their coach
BK- Speaking of Frank, how do you call his fight with Baroni this weekend?
KS- I like Baroni, he?s powerful man, very explosive. I don?t like him in the later rounds. If the fight goes to the later rounds, if it goes to later rounds I think Franks gonna beat him, but if Baroni can punish him in the first round, he?s got a shot at winning.

BK- I?ve got a few MMA history questions for you, is the Tito thing is finally behind you?
KS- You know, it?s one of those things, you know. I beat myself up over it for a while, but I look back on it, you know what, everybody in the history of fighting has got that one person they can?t get by. Jackson couldn?t beat Silva. Chuck Liddell couldn?t beat Quentin Jackson. Couture got knocked out twice by Liddell. There are just those guys you can?t get by, and Tito was that guy for me.

BK- You made his career with the rivalry with the Lion?s Den. How do you feel about being responsible for his success?
KS- I feel good about it. I don?t hate Tito, I don?t know Tito outside of fighting. It was just business. I got in there, and I fought the guy. I didn?t like a lot of the things that he did, I built a feud on it, and we went from there. I don?t really know Tito. I don?t hate people. I think that Tito had done well for himself, and he earned it. He deserves it. He didn?t just walk in and take somebody?s money and walk out. He walked in there and beat somebody, me, and took that money. So the success that he?s had, he?s earned it.

BK- In Pride you faced Fujita, you were dominating the fight, you looked great, and then the tide suddenly turned what happened?
KS- I?m not sure, even to this day, I?m not sure. Everything went white, and I couldn?t see. My heart felt like it was pounding through my chest. I?m not quite sure what happened. I couldn?t control my vision, my balance, I don?t know what was wrong with me. I was going through a lot just then, I was going through a divorce and my 4 kids were dropped off on me in a two bedroom apartment, so I didn?t get to train properly for the fight. There was a lot going on in my life at the time, and I think that there was a whole bunch of stress built up on me and it came out when I didn?t want it to.

BK- You?ve had a lot of close calls in the ring, a very close spit decision with Don Frye, and now you?re both coaching in the IFL. Any hopes of a rematch?
KS- I don?t know, we had a great fight. It was one of those ones I look back on and think it was an awesome phenomenal job on his part to stay in there. I had him locked out, and I broke his ankle, and he stayed in there man. He?s a tough kid. I look back on it and say I want to even it up, but it?s not even that at all. It?s to go in there and compete with a guy like that is awesome. To have another fight with him would be awesome, but right now I don?t even know where my next fight is going to be. So I need to make sure I get that one first.

BK- One of the most controversial moments in MMA was when you pulled Guy out of the fight with Sakuraba. Everyone knows, they tried to change the duration of the match on you, when their guy wasn?t winning, but walking away may have cost Guy one of his greatest moments in the sun. How do you feel looking back on that decision?
KS- One of the decision we made going into the fight was we agreed that there be one 15 minute round. Guy came in on short short notice, and had only 2 weeks to get ready, and he had a fractured foot. So guy said he would do the fight in agreement that there would be a fifteen minute fight. I told them going in that there would be one round, because I knew if Sakuraba wasn?t winning the fight they might try and make us go another round. I knew Guy?s foot may not be able to hold up, and his conditioning might not hold up. I made sure Guy and everyone knew we would only do one round. Win or lose that?s that. We made the agreement with the office, and Guy and myself. So when the round was up, win or lose, the fight was over.
BK- Thank you very much for talking to us. It was an honor to speak with you.
KS- Thank you.
Big thanks to Ken, Robin Merritt, Tanya Shamrock, Jerry Milani, Rachel, Vernon "Tiger" White, Cleaver, Beverly Mitchell, Stephen Sharp, Oliver Klosov, CTY, JSC and Dyno for help with questions and setting up the interview.
--
Jim "DC Books" Kirkland

Discuss the interview here!